I DRINK ON THE JOB - THE BLOG
Posts Tagged 'dc cooking classes'
I wanted to learn how to make the juiciest fried chicken and fluffiest biscuits in DC..
I had the really great luck to attend a cooking class on Thursday, February 28th, 2013 at a totally new facility in DC – the Union Kitchen. So you may ask what exactly IS Union Kitchen? That actually might be hard to explain, but let me give it a try – it's a place for Start-Up food businesses to go the next level in production and ultimately business success. But not always..it's also a commercial kitchen for Food Trucks and other food producers who can schedule a time and then produce their product for commercial purposes..but it's also one more thing – a potentially excellent venue for hands-on cooking classes and events. In a nutshell, it's an exciting opportunity for food ventures in DC to go to the next level – I was PSYCHED to go to this event! (Note: Here's a really good explanation by City Paper )
The Chef: I stole this from the Chef's bio on her website, but I also would like to add that the chef was excellent at organizing and teaching a cooking class – she had wonderful rapport with the 10 attendees and she was very organized and straight to the point of the class – let's get cookin'! Jessica also mentioned to me that she's working on a commercial recipe for her Southern pimento cheese ..but I didn't get much detail, I'm sure there will be more to tell..From her page: Jessica O'Neal started JLOkitchens to share her love of Southern cuisine with the District. She teaches cooking classes at CulinAerie, is a personal chef for a very tall man and is currently developing a line of Southern food products at Union Kitchen. She will gladly trade you her tasty pimento cheese for honest feedback and/or champagne.
The Class: This class was held in a commercial kitchen, so we used the same industrial equipment that all of the commercial businesses use, but our recipe was for producing similar amounts to what we would make at home. We got right down to cracking eggs, adding them to the flour with hunks of butter and making biscuits. The basic format was that we were shown how to make each dish with basic recipes and then broken down into groups to cook for the group.

The Menu:
-Sweet Potato Herb Biscuits with Honey Butter – I finally learned the secret of making great biscuits – hunks of butter and folding the flour and compressing to create layers for steam and flakiness..
-Buttermilk Brined Fried Chicken – I actually missed the recipe for this part and basically all I did was flip some fried chicken (my fault – I was off on a tour of the facility!)-a much longer than expected slow fry in the oil made this chicken both crispy and cooked through..but the meat was really juicy – I ate it down to the bone!
-Creamy Cheddar Grits with Smoky Greens – this is actually 2 dishes, but they were combined. The secret is in both the type of corn grits and in the way they are ground – stone ground is best. And cheese was added at the very end only as a topping, rather than in the cooking process. We used curly Kale, but any green works for this dish.
-Cornbread Custard with Berry Coulis – this was a very simple dessert essentially using store bought corn bread, breaking it up and adding eggs and milk into a custard and heating at a relatively low temperature – simple, but classic comfort food!
-Bourbon Whipped Cream – real Bourbon..I should know, I was sipping some of that Jim Beam during the class..
Conclusion: This was a really fun event in a great location..I was warned about this neighborhood, but when I found the space (it was a little hidden – but it's an old warehouse building, c'mon!) and parking in front, I began to think – people are just living in the past..this facility IS the future of DC and the entrepreneurs who run it are the next wave for DC. Jessica gave a great cooking class and the facility is perfect for a multitude of events – there's even additional spaces for Pop-Up Dinners, wine tastings and more culinary endeavors. OK, so it's a bit edgy, but you know the expression – you gotta break a few eggs to make an omelette – Cheers!
Charlie "I Drink on the Job" Adler
I've been to many cooking classes and in fact many Pasta Making classes so it was really fun to attend a creative take on a cooking class organized as part of the Barracks Row Culinary Education Crawl on Sunday, February 17th, 2013 held at various restaurants on Capitol Hill, Washington, D.C. as well as the Hill Center at the Old Naval Hospital – a truly cool space!
I took 2 classes, but this article will only cover the class Pasta Making With Chef Wendi – a 60 minute class where 12 total participants got to make our own pasta and share in the meal afterwards – all for a whopping 20 Bucks! I'll take you through a quick run-through of the class:
Instructor: Wendi James who teaches quite a few culinary classes at other schools in the region including at Culinaerie, Sur La Table – Pentagon City, VA (or she said she once did – another story!) and at her own cooking school Rutabaga Sweets. I spoke with her before class and she has quite a pedigree having worked at many top-rated restaurants in the U.S. (she worked at Restaurant Daniel NYC, The Inn at Little Washington and Charlie Trotters Chicago) and hailing from serious Foodie City Chicago. Her attitude was refreshingly honest and she spoke her mind about the local restaurant scene and her plans to open up a breakfast place in Asheville, NC. As an instructor, she was direct and "get to work" – but of course we only had 1 hour to make both hand-roll fettucine and ravioli with the hand-cranking pasta machines – no time to dilly-dally..
Pasta Ingredients – simple..all you really need is All-Purpose flour, some eggs, and a little olive oil (you could actually skip the olive oil). I was working with 2 other cooks who had never made pasta homemade before. Maybe you can get a little fancy and learn to crack an egg with one hand, but one secret to getting the egg in the flour with No Shell is to crack the egg against a flat surface NOT the bowl. If you mix it in a bowl, it's very forgiving, but it's nice to make a small "well" in the middle of the flour to hold the eggs and then swirl a fork (or your hand – watch out, it can get sticky/messy!) until the ingredients all become a dough..if it's too sticky, add some flour, if it's too dry, add a little water, it's very forgiving.
The Facility and Setup: Class is held in Hill Center's state-of-the Art teaching kitchen. It was relatively small – only fitting 1 instructor and 12 participants, but it was truly an easy kitchen to learn from and to do hands-on cooking. There was the main table where everyone gathered round in a circle with the burners, and then there were 2 work tables in the back for up to 6 participants each. Things were kept very simple – we were given a bowl of flour and eggs, some olive oil and a tablespoon, and the ravioli filler which we had to cut up the basil and add to the ricotta and parmesan cheese to put into the ravioli's – just like Italian food, there were simple ingredients and simple instructions. If you've ever been to Italy and have seen how pasta is made – it's very simple and traditionally was done by Grandma at home. BTW – you can also make pasta without the eggs and just using water – that's how it's often done in the south of Italy. And then, we had to roll..
Rolling Pasta:
Once you make the dough, you can wait an hour or immediately begin rolling it out into sheets. The way it works is that you begin with the widest opening, do that a few times until the dough kind of "comes together" (the gluten begins to stretch and take shape) and then you keep feeding the sheet into smaller/narrower settings until you get to the lowest setting – and boy, does the dough spread out – I mean it can go for yards! The same sheet of dough can be used for noodles or for ravioli and fillings – I once took a class where different kinds of flour were used for both (All Purpose Flour for Ravioli because it's relatively soft/tender, semolina flour for a chewier pasta) but frankly it's a matter of personal taste.
Cooking Pasta: The sauce in this class was made for us (another post on Sauce..soon..) but in a nutshell there was a white sauce with cheese and cream and a red sauce with tomatoes of course. So Chef Wendi boiled the pasta in unsalted water – a discussion ensued – in Italy, they always salt their water for pasta ("as salty as the sea" is the famous quote on how much salt for pasta water – this always starts an argument with Italian cooks!) – her philosophy is you don't salt the pan when you sear a steak, you salt the steak – so my interpretation is that the pasta/ingredients and the salt should be properly salted. In my own defense of the Italian way of salting the water – it depends – for example, if you cook your greens in the salted water before you cook your pasta (like for Broccoli Rabe and Orecchiette), you have a very flavorful pasta water..well, just like 2 Italians, Chef Wendi and I may never agree!
Upcoming Pasta Classes on the TasteDC Site:
-Handmade Pasta Workshop at the Kitchen Studio (Frederick, MD) (February 21st, 2013)
-Pasta Fatta in Casa (Pasta Made at Home) II at Culinaria (Saturday, February 23rd, 2013)
-Pierogi Cooking Class at Hills Kitchen (February 23rd, 2013)
-Fresh Pasta Workshop at Sur La Table (March 13th, 2013)
-Handmade Pasta and Sauce at Cookology (Ashburn, VA) (Saturday, March 23rd, 2013)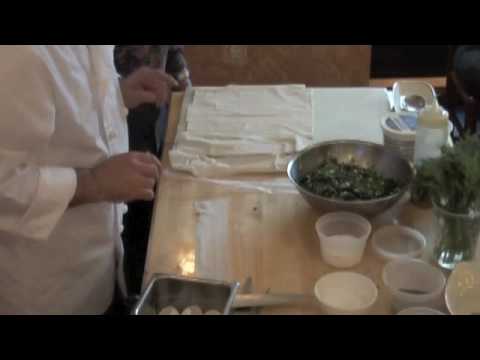 TasteDC held a Great Greek Classics Cooking Class at Veranda on P Restaurant in Washington, D.C. on Saturday, June 6th, 2009 and this is a short video of using fillo in greek pie preparations. I grew up in Harrisburg, PA which has a large Greek community, so spinach and cheese pies (Spanakopita – Tiropita is basically the same filling without the spinach) where readily available. When I think about the buttery flakey fillo crunching in my mouth and the creamy, salty spinach and cheese oozing onto my tongue, frankly it brings back great memories! I was a bit critical of the food I grew up with in Harrisburg in my book I Drink on the Job but I was very fortunate to have had a great selection of restaurants run by Greeks to enjoy a mix of American and Greek cuisine. Lamb and Moussaka were often on the menu at these little neighborhood restaurants which opened up my awareness to real food.
This is the very basic recipe for Spanakopita we used in the cooking class – you can vary the cheeses if you like. The video is more for demonstrating using fillo which I think scares people a bit to cook with because it's temperature sensitive and pretty easy to break while using. Give this recipe a try – enjoy!
Spanakopita Recipe
Ingredients:
One box of fillo dough
one box of frozen spinach
8 oz ricotta cheese
one lb of feta cheese
One bunch of spring onions (Chopped)
Dill (a small bunch)
one or two eggs
salt (to taste)
white pepper (for seasoning)
Olive oil
Butter (melted)
Method:
Defrost and strain well the spinach. Place all the ingredients (except the fillo) together and mix. Cut the fillo in three or four long rectangles like lasagna pasta. Take one strip of fillo and place a small amount of the mix on one of the corners of the fillo. Fold the fillo to form a triangle and use a little of the melted butter to keep it together during cooking. Brush a baking tray with butter and place the finished pies on the tray. Place it in the oven for 15 to 20 minutes at 350 degrees UNTIL it's only brown on the outside, then lower the temperature to 300-325 degrees and cook until the interior is crispy, don't overcook.
P.S. You can decide the shape and the size of the pie.
Charlie "I Drink on the Job" Adler